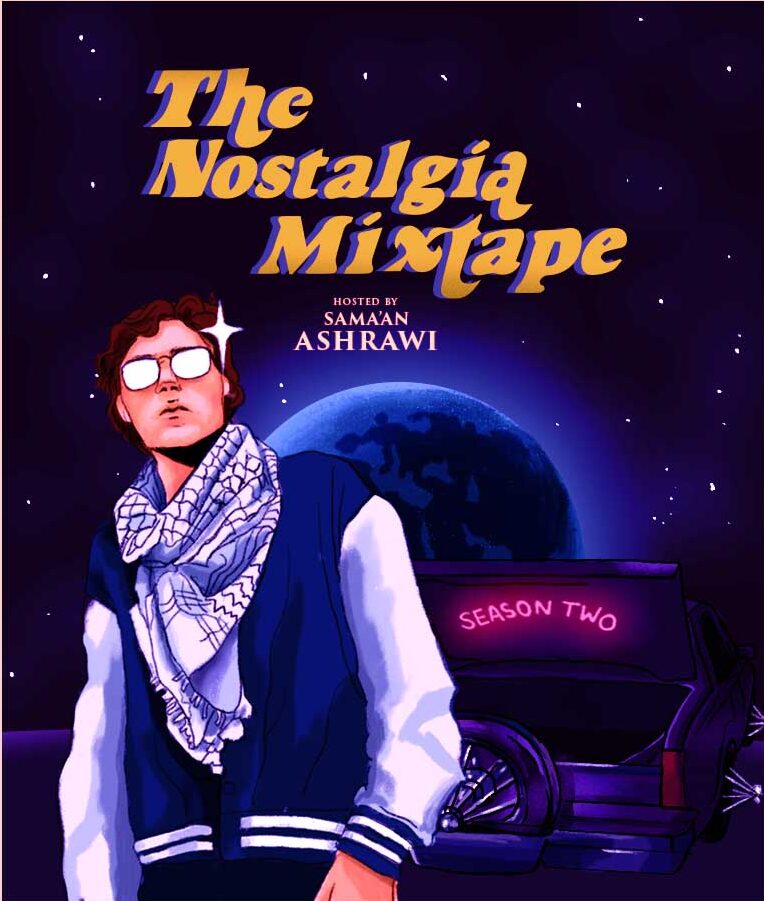 Get up to speed with our season 2 primer, and, if you can, drop us a donation here.
Sama'an: Hello World,
I know you could all use some good news right about now. Hell, I could too. In the middle of all this madness, a good story is a great escape, and that's what I hope we can bring you with season two of The Nostalgia Mixtape. My name is Sama'an Ashrawi and I'll be your guide.
If you're new to this, it's pretty simple: every episode we have a cool guest tell the story of a memory that's tied to a song. What's beautiful is that many more memories are unlocked in the process, so you get a glimpse of our guest that you've probably never seen before.
To begin every episode, we ask our guests to share some good news. So, truly, if you're looking for some good news, you're in the right place.
Our guests are Grammy winners, New York Times best-sellers, WNBA champions, world-famous comedians, and above all: talented and effortlessly cool.
So if you came here to nerd out, you'll get a little bit of that, but we'd like to give that part of your brain a rest, so mostly you'll get the chance to sit back and hear a great story.
["Time Machine" interlude]
So I wanted to give y'all a primer on this season. Maybe this is your first time listening, or maybe you've heard the entire first season five times. Some things are gonna be a little different, but mostly it's gonna be the same. But before I tell you about those similarities and differences, I wanna tell you something really important which is that we need money to keep this thing going.
It costs money to have a website; it costs money to host our little podcast on streaming services; it also costs money to subscribe to those services so we can make you the playlists for each episode; it also costs money to get these interviews transcribed for the website. It all adds up, you get what I'm saying. So, if you like what you hear, head on over to thenostalgiamixtape.com, click on the donate button, drop us a little tip, or a big one. Big money is better if you got it, but if you don't it's all good. Give what you can. It would really mean a lot to us and we would really appreciate it.
Anyway, on season two. The concept hasn't really changed: you're still gonna hear cool people tell the stories of memories that are tied to music, but we added one element and changed another.
First of all, as you can hear in the background, we got some new theme music. It's a song called "Time Machine" by Big KRIT featuring Chamillionaire. It's one of my favorite songs and it's all about how listening to music in your car is like traveling back in time. If you don't drive, think of the subway or the bus or your bike or whatever means you use. That's your time machine. Thematically, I think this song is perfect for what we're doing here. So I hope you enjoy it too. Let me know.
Secondly, because these conversations are so intimate and personal, we're adding some campfire sound effects, like this…. to hopefully help make it feel like wherever you are out there, you're being pulled in just a little bit closer, and, hopefully, if we do it right, you'll feel like you're sitting right next to us.
Our guests on this season come from all over the world. Four different continents by my count. We're hoping that's as exciting for you as it is for us.
So, that's what to expect from season two. A lot of really cool people, a lot of great stories; you're gonna laugh, you're gonna cry, maybe both in one episode? Hopefully. Not that I want you to be crying, I'm just saying, we're gonna talk about some things that could make you cry…. in a cathartic way. I'm not trying to make you feel bad.
I just wanna say, if you've been with us this whole time, really appreciate you rockin with us. If you're new to this, even better. Welcome. And we'll see ya when we see ya. Or we'll hear ya when we hear ya. We probably won't hear you. Just hit us up @nostalgiatapes on Instagram and Twitter. Let us know what episodes you love, tag our guests in your posts on social media, let them know that you appreciate them taking time out of their life to sit down with us and get nostalgic.
So, my name is Sama'an Ashrawi, this is The Nostalgia Mixtape, let's do season two!